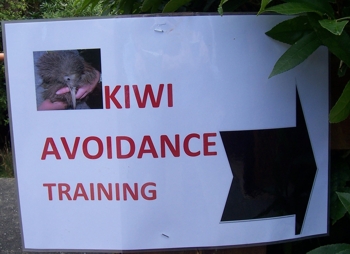 Kiwi Aversion Training
If you have a dog and visit the Rimutaka Forest Park for hunting or recreation you need to get it avoidance trained.
It takes about 15-20 minutes to get your dog "kiwi safe", though a return visit in a year is required to ensure that your dog shows continued aversion. A certificate is provided and your dog's ear is tattooed as physical identification (and/or associated with their microchips accepted.)
A token fee of $10 per dog will be charged (with a maximum of $30 for 3 or more dogs per owner.)
This is an affordable way to help safeguard our kiwi and your dog. The certification we provide can be used to take your dog into any kiwi area around the country (may be subject to regional restrictions, talk to the local DOC office first).
Book NOW! To book - or for more information - contact Rosemary Thompson on (04) 569 4764.
Email enquiries: kat@rimutakatrust.org.nz
---
Important notice about 2nd half 2017 KAT sessions
The kiwi aversion training planned for Saturday, 30th September, 2017 and Sunday, 1st October, 2017

has been postponed

until the New Year 2018.

Rimutaka Forest Park Trust is running a two day canine kiwi aversion training sessions for hunting or pet dogs on Saturday 30th September and Sunday 1st October with our experienced trainer Jim Pottinger.

This training is for new dogs and dogs that are due a refresher course.

The training will take place at the Rimutaka Forest Park with registration at the Catchpool Visitors Centre near the main park entrance off Coast Road Wainuiomata.

This is provided to you at a small cost of $10 per dog - up to a maximum of $30 for 3 or more dogs. We are hoping to have secured sponsorship to cover the remaining training fee.

Would you would like to book in your dog/s?

We try and accommodate your preferred time, morning, midday or afternoon, but times need to be little flexible as the time taken to train a dog varies from 10 minutes to 20 minutes and some time slots are more popular. For a booking we need your preferred day and time; your full name and phone number and your dog's name.

Please reply by email to kat@rimutakatrust.org.nz and you will receive a confirmation of your booking day and time.