Welcome!
Rimutaka Forest Park is a magnificent area of mostly native forest in the hills east of New Zealand's capital city, Wellington.
It encompasses the Rimutaka Ranges and the Orongorongo River, just north of the spectacular earthquake terraces and seal colony at the Turakirae Head Scientific Reserve.
The Park is characterised by steep, bush-clad hills and narrow fern-filled valleys cut by abundant freshwater streams and the beautiful Orongorongo River.
Throughout the park, there are many well-formed and signposted walking tracks appealing to bushwalkers and nature lovers of every age and state of fitness.
The park is easily accessed by road from Wellington or Lower Hutt. Simply take the hill road to Wainuiomata and follow all the signs to the Coast Road/ Rimutaka Forest Park and then turn left at the Catchpool Stream access road into the Park. (See Map)
The Rimutaka Forest Park Charitable Trust is committed to preserve and restore the natural and historic resources of the Rimutaka Forest Park valleys and environs... (More)
It has been active in bringing about many improvements to the Park and the Catchpool Stream picnic area and camping grounds. (Download our flyer here...)
Our "Restore the Dawn Chorus" project is now in its 13th year and our "Kiwi Project" has produced a large number of beautiful baby kiwi chicks!
---
Catchpool Earth Day 2016
Friday 22nd April, 2016 9:30 - 12:30
Join DOC, Hutt City Council, the Rimutaka Forest Park Trust, US Ambassador Mark Gilbert and the US Embassy Team at a tree planting and conservation celebration event at the Catchpool Valley, Rimutaka Forest Park.
This will mark the official opening of our latest Eco-Hotspot in the Catchpool Valley and the US Embassy Team will be celebrating the 100th Anniversary of the National Parks Service in the USA.
Meet at the Trust kiosk at the top car park at 9:30am.
Wear outdoor clothes and sturdy footwear suitable for tree planting and an easy walk through beautiful native bush.
This is a Free Event. Trees and tools supplied by the Catchpool Restoration Project.
Kiwi Aversion Training for Dogs
Dear Dog owners,
We are running a one day kiwi aversion training for hunting or pet dogs on Sunday 1 May, 2016 with our experienced trainer, Jim Pottinger.
Dogs find the smell of kiwi irresistible and only have to clamp their jaws on a kiwi to kill it.
This training helps protect the 100 kiwi in the park.
The training will be held at the Catchpool Visitors Centre in the Rimutaka Forest Park, Wainuiomata. This is provided to you at a small cost of $10 per dog up to a maximum of $30 for 3 or more dogs. (We have some sponsorship which will cover the remaining training fee).
If you would like to book in your dog(s), please contact Rosemary Thompson on (04) 569 4764 or 021 044 3279 or email sponsors@rimutakatrust.org.nz
We will try and accommodate your preferred time, morning, midday or afternoon, but times need to be little flexible as the time taken to train a dog varies from 10 minutes to 20 minutes.
For a booking we need your full name and contact details, your dog's name and your preferred time.
Little Blue Penguins avoidance training for dogs will be held in Eastbourne on Saturday 30 April with Jim.
To find out more and book in please email Sally Bain pfp.easternbays@gmail.com
Thank you,
From the team at the Rimutaka Forest Park Trust.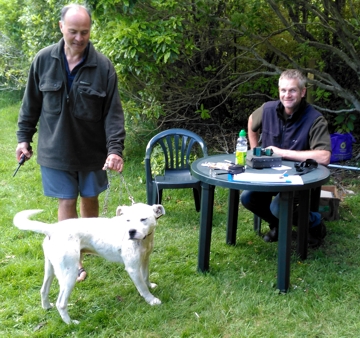 Jim Pottinger (right) talks to a dog owner ahead of his dog's Kiwi Avoidance Training session during the most recent KAT for dogs weekend conducted in November, 2015.
---
Download the latest issue of our newsletter by clicking here...
(Adobe Acrobat Reader required (PDF) approx1.1Mb )
---
Kiwi Spy
What's hidden down there in that deep, dark burrow? Here's a really good way to reveal all!
Read all about Alan Thompson's Kiwi Spy device here:

---
Sponsor a Trap
By sponsoring a trap for only $30 each you will not only Save Kiwi and other native birds, but also help with the:
maintenance of traps
supply of baits
training and equipment for volunteer trappers
monitoring & protection for the released kiwi
For more information and to Sponsor a Trap, click here...