Welcome!
Rimutaka Forest Park is a magnificent area of mostly native forest in the hills east of New Zealand's capital city, Wellington.
It encompasses the Rimutaka Ranges and the Orongorongo River, just north of the spectacular earthquake terraces and seal colony at the Turakirae Head Scientific Reserve.
The Park is characterised by steep, bush-clad hills and narrow fern-filled valleys cut by abundant freshwater streams and the beautiful Orongorongo River.
Throughout the park, there are many well-formed and signposted walking tracks appealing to bushwalkers and nature lovers of every age and state of fitness.
The park is easily accessed by road from Wellington or Lower Hutt. Simply take the hill road to Wainuiomata and follow all the signs to the Coast Road/ Rimutaka Forest Park and then turn left at the Catchpool Stream access road into the Park. (See Map)
The Rimutaka Forest Park Charitable Trust is committed to preserve and restore the natural and historic resources of the Rimutaka Forest Park valleys and environs... (More)
It has been active in bringing about many improvements to the Park and the Catchpool Stream picnic area and camping grounds. (Download our flyer here...)
Our "Restore the Dawn Chorus" project is now in its 12th year and our "Kiwi Project" has produced a large number of beautiful baby kiwi chicks!
---
Download the latest issue of our newsletter by clicking here...
(Adobe Acrobat Reader required (PDF) approx 1Mb )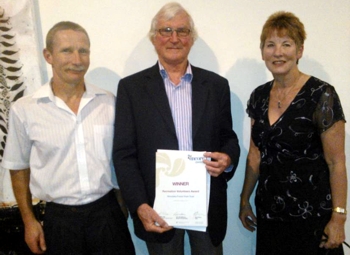 Mike White, Ian Armitage and Rosemary Thompson show off the 2012 Encore Award presented to them by Fran Wilde, Chair of the Greater Wellington Regional Council.
Photo credit: Alan Thompson

That night, our President, Ian Armitage, sent out the following email to fellow Trust volunteers...

"A big congratulations to all volunteers in the Rimutaka Forest Park Trust. At the Encore Awards ceremony held at the City Gallery, Wellington City Civic Centre this evening we were judged the winner of the Recreation Volunteers Award. Well done to you all. There were four finalists and we were both surprised and delighted to be named. A close runner up was the Makara Peak Mountain Biking Group.

The Recreation Volunteers Award presented to us by Ms. Fran Wilde, Chair of the Greater Wellington Regional Council, is one of seven categories of the Encore Award (Community Partnerships Award, Kaitiaki Award, Landowners' Conservation Award, School Environmental Project Award, Excellence in Compliance Award, Environmental Protection Award, Recreation Volunteers Award)."
The Mayor of Hutt City, Ray Wallace presents a 2012 Hutt City Wellington Airport Regional Community Award to The Rimutaka Forest Park Charitable Trust at a ceremony at Silverstream on Tuesday, 18th September. The Trust was the winner in the heritage and environment category. Pictured from left to right are Rosemary Thompson (Vice President) Kelly Anso (Trust Committee) Ray Wallace (Mayor) and Janet Lawson (Trust Committee and Dawn Chorus Coordinator).
Click for a larger image. Photo Credit:- Ross de Rouffignac.
Upcoming Events...
Wainuiomata Water Walks
Sunday 19th May, 2013
Our Wainuiomata Water Catchment neighbours to the west of the Rimutaka Forest Park run regular free walks through rarely-seen pristine native forest so you can learn more about where our top-grade Wellington water supply comes from AND enjoy first-hand the unsurpassed beauty of unspoiled New Zealand lowland native forests and the abundant wildlife it contains!
Book your place on a free guided Wainuiomata Water Walk here: (This link will take you to the Greater Wellington Regional Council's website for Wainuiomata Water Catchment Tours contact and booking purposes.)
For further information contact:
Phone: 04 830 4406
Email: karen.broughan@gw.govt.nz
The recently restored wetlands area adjacent to the caretaker's cottage at the Wainuiomata Water Works is a haven for aquatic wildfowl and native fish. (Click for a larger image)
Updated 5MBC Data
To view a summary of Ian Armitage's latest 5 Minute Bird Count results for the Catchpool Valley and environs, please click here...
Annual General Meeting - 2012
Our Rimutaka Forest Park Trust Annual General Meeting was held at the Wainuiomata Library on Tuesday, 4th September, 2012.
New officers were elected and attendees were treated to a delightful account of our Kiwi Project activities to date by kiwi project coordinator, Melody McLaughlin.
Download the President's Annual Report for 2012 here:
Simon Morton (right) interviews Stu Cockburn (DoC) about the kiwi recorders he designed that we are using to monitor kiwi calls and other birdsong in the Rimutaka Forest Park.
"This Way Up" interview
Radio NZ - National
Saturday, 19th May
Follow this link to the "This Way Up" website at Radio New Zealand to download the audio segment for this broadcast:-
http://www.radionz.co.nz/national/programmes/thiswayup
Better still, click the flag-waving kiwi below to visit the kiwi page on the "This Way Up" website on Radio New Zealand!
---
New website for community groups
There are hundreds of community restoration groups and individual landowners in New Zealand dedicating time and effort to restore our native ecosystems. The Nature Space website supports these people.
Nature Space is a website for groups, individuals and landowners undertaking ecological restoration in New Zealand. It provides valuable information and resources to assist these community groups in their efforts to preserve and protect our precious and varied landscapes.
The conservation work carried out by these communities is vital not only for the intrinsic value of our biodiversity, but also for the health and prosperity of New Zealand.
To view the website, or to add your group, click here:
Why not join us?
New members are always welcome! We have many different and interesting roles to fill for keen volunteers. Learning opportunities abound and you'll enjoy the company of many great characters among our existing members! Perhaps you have some specialist skills that you'd like to contribute to assist us in attaining our long-term goals and objectives? If so, please complete the Membership Application Form here... and send it in to the Membership Secretary by mail or email. (For address details, click here...)
---
DoC Hotline: 0800 362 468
(0800 DOCHOTline)
---
Kiwi Spy
What's hidden down there in that deep, dark burrow? Here's a really good way to reveal all!
Read all about Alan Thompson's Kiwi Spy device here:

Sponsor a Trap
By sponsoring a trap for only $25 each you will not only Save Kiwi and other native birds, but also help with the:
maintenance of traps
supply of baits
training and equipment for volunteer trappers
monitoring and caring for the released kiwi
For more information and to Sponsor a Trap, click here...