Sponsorship
The Rimutaka Forest Park Trust is not government funded and not a part of the Department of Conservation. This means we do not have money coming in to us on a regular basis from any regular source. We fund ourselves entirely through grant applications, membership subscriptions and the goodwill and kindness of the community.
Your sponsorship helps us to continue to do the work we do well.
There are many different types of sponsorship available to suit different people, ranging from $30 right up to $1,500 or more.
Sponsorship Options
We have a range of sponsorship types available.
Sponsor a Kiwi $50 inc. GST per year per kiwi
Sponsor a Tree $30 inc. GST per native tree or plant
Sponsor a Trap $30 inc. GST per year per trap
Sponsor a Transmitter $400 inc. GST per year
Name a kiwi chick $2,000 +GST once only...
Remember that your sponsorship contribution or donation is most likely tax deductible. You will receive a tax receipt with your acknowledgement in the post.
For more information, email our Sponsorships Coordinator, Sarah Hutchison
at sponsors@r

emutaka.nz

)
To learn more about each option, see the descriptions below...
Sponsor a Kiwi
For only $50 a year year you get to choose a special kiwi to sponsor. You will get a sponsorship package including a photo of the kiwi and some information about its life so far.
Sponsor a Tree
For only $30 you get to sponsor a native tree to help with the Catchpool Restoration. You may either come down to the park and plant the tree, or you can have it planted for you. This sponsorship leaves behind a lasting legacy in the park.
Sponsor a Trap
At $30 a year this is our most affordable sponsorship. By sponsoring a trap for a year you are supporting the important pest control efforts going on in the Rimutaka Forest Park. You will receive a certificate that identifies your sponsored trap and information about what our trapping network catches
Sponsor a Transmitter
Transmitters are by far one of the largest costs we face every year. These are the little bundles of technology that get gently strapped to the legs of our kiwi so we can monitor where they are and how they are. At $400 this sponsorship is worth every penny as if it is possible you will be invited to the next transmitter change happening in the Rimutaka Forest Park.
Name a Kiwi Chick
Give a wee piece of yourself to a kiwi. For $2,000 you get the opportunity to name one of our birds. This is the name the bird will forever be known by. You will get a special naming certificate and we will keep in touch with you now and then to let you know both what's happening in the Rimutaka forest Park and what's happening with your kiwi. This is an amazing gift to give somebody, or a precious tribute to someone you knew well.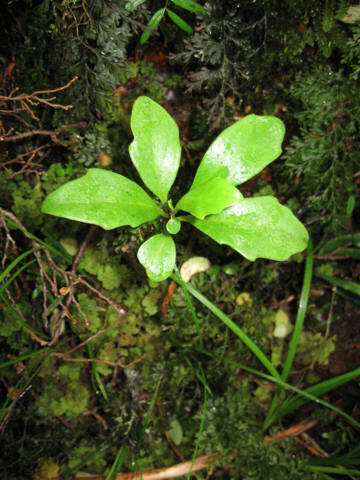 Scarce - Kirk's Tree Daisy is now rare in our forests because of the impact of introduced pests such as goats, deer, pigs and possums. Fortunately, these plants are making a come-back in the Remutaka Forest Park and the Wainuiomata Water Catchment as we steadily reduce pest numbers. Photo credit: PC
Sponsor a Tree - $30 each
For the next 300 years or more you can come back to the Remutaka Forest Park to admire your chosen native tree planted in a lovely spot for future generations to enjoy!
You can choose from a wide range of eco-sourced native trees, some of them quite rare and valuable, and either plant it yourself down in the Park with our assistance and guidance, or we'll plant it for you if you cannot be there on the day.
How about a fine, specimen podocarp such as a kahikatea, rimu, rata, or totara? Or what about something rare, like Fierce Lancewood (Pseudopanax ferox) or Kirk's Tree Daisy (Brachyglottis Kirkii) perhaps?
Your sponsorship helps to pay for the plant and its care for those crucial first years of life, including nursery propagation, planting and releasing/ protection from pests etc. until its healthy establishment.
If requested, we'll provide you with a certificate with a GPS-mapped location shown for your chosen plant and general information about how your plant fits into the local ecology - what birds and other critters it feeds or provides haven for - and other pertinent information.
How to Pay
[Check out the panel at the right for current payment options]
There are many other ways to get involved, such as becoming a volunteer, putting your dog through kiwi aversion training or visiting and enjoying the park.
Thank you for your interest!
---
Sponsor a Trap - $30 per year
We have installed over 900 stoat and ferret traps in the Remutaka Forest Park and plan to expand this number as our kiwi population grows and their home ranges spread out.
These help keep predator numbers down. The biggest threat to young kiwi is stoats and by installing these traps we have given kiwi a fighting chance to re-populate the area.
For your $30 sponsorship, you will receive a certificate with the trap identification number. You will also receive updates with trapping data and information on the kiwi population.
A side-benefit of our trapping effort is that other native wildlife species are greatly assisted as well, with a noticeable increase in birdsong in the forest as a consequence.
Thank you; Your contribution means a lot to us and helps to ensure the survival of the unique and special wildlife in the park.