Welcome!
Rimutaka Forest Park is a magnificent area of mostly native forest in the hills east of New Zealand's capital city, Wellington.
It encompasses the Rimutaka Ranges and the Orongorongo River, just north of the spectacular earthquake terraces and seal colony at the Turakirae Head Scientific Reserve.
The Park is characterised by steep, bush-clad hills and narrow fern-filled valleys cut by abundant freshwater streams and the beautiful Orongorongo River.
Throughout the park, there are many well-formed and signposted walking tracks appealing to bushwalkers and nature lovers of every age and state of fitness.
The park is easily accessed by road from Wellington or Lower Hutt. Simply take the hill road to Wainuiomata and follow all the signs to the Coast Road/ Rimutaka Forest Park and then turn left at the Catchpool Stream access road into the Park. (See Map)
The Rimutaka Forest Park Charitable Trust is committed to preserve and restore the natural and historic resources of the Rimutaka Forest Park valleys and environs... (More)
It has been active in bringing about many improvements to the Park and the Catchpool Stream picnic area and camping grounds. (Download our flyer here...)
Our "Restore the Dawn Chorus" project is now in its 13th year and our "Kiwi Project" has produced a large number of beautiful baby kiwi chicks!
---
Download the latest issue of our newsletter "The Rag", by clicking here...
(Adobe Acrobat Reader required (PDF) approx 1.1Mb )
Right now, there's a stunning display of NZ Tree Fuchsia (Fuchsia excorticata) at the Catchpool Valley picnic area near the start of the Nature Trail in the Rimutaka Forest Park. Don't miss this opportunity to see these superb jewel-like flowers. So many irridescent colours! (Click for a larger image.) Photo credit: PC
Sarah Owen (DOC) with Ian Armitage (President, RFPT) and Nicky Wagner (Parliamentary Private Secretary for Conservation) following Nicky's speech at the Trust's 25th Anniversary celebration. Nicky and Sarah presented the Trust with a cheque for $10,000 in recognition of the conservation work done by the Trust. (Please click for a larger view.) Image supplied.
Family Tree Planting Day - Catchpool
Sunday 8th September, 2013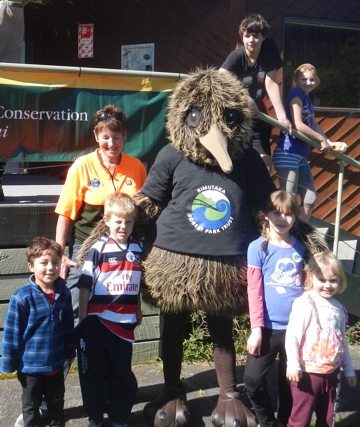 Rosemary Thompson and Rimu the Kiwi surrounded by children at the Planting Day for families at the Catchpool during Conservation Week 2013. (Click for a larger image...) Photo credit: DOC
What a blast! On Sunday a large number of families and many other hardy volunteers came to plant native trees and to enjoy the scenery and abundant wildlife in the Catchpool Valley - the main gateway entrance to the fabulous Rimutaka Forest Park. It was a beautiful, sunny day with very little wind, so conditions were just about perfect.
We supplied the trees, gloves, spades and the team from DOC put on some really nice snacks, a BBQ lunch and hot and cold drinks. Rimu the Kiwi turned up, so the kids had fun during a lovely family outing in very pleasant surroundings. Two very full trailer-loads of native trees were planted.
Species planted included five-finger, northern rata, cabbage trees, nikau, kowhai, totara and karamu.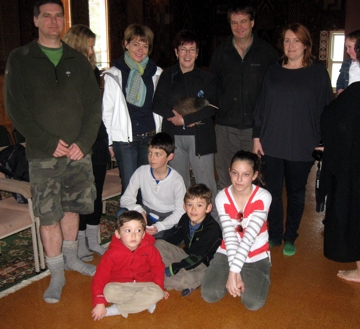 The team from Z Energy with their kiwi, Tahi, following the blessing ceremony at the Wainuiomata Community Marae. (Click for a larger image.) Photo credit: PC
Another kiwi released today...
Saturday, 10th August, 2013
Tahi, a brown kiwi whose parents were Solomon and Hukairoa, was returned to the Rimutaka Forest Park today after a superb welcome and blessing at the Wainuiomata Community Marae.
Sponsors
, Z Energy came along to see their kiwi in the flesh for the first time and the hardiest team members then accompanied the bird up the hill and into the bush.
Tahi was placed into a temporary burrow after being weighed and health-checked again before her first night out in the Rimutaka Forest Park.
Why not join us?
New members are always welcome! We have many different and interesting roles to fill for keen volunteers. Learning opportunities abound and you'll enjoy the company of many great characters among our existing members! Perhaps you have some specialist skills that you'd like to contribute to assist us in attaining our long-term goals and objectives? If so, please complete the Membership Application Form here... and send it in to the Membership Secretary by mail or email. (For address details, click here...)
---
DoC Hotline: 0800 362 468
(0800 DOCHOTline)
---
Kiwi Spy
What's hidden down there in that deep, dark burrow? Here's a really good way to reveal all!
Read all about Alan Thompson's Kiwi Spy device here:

Sponsor a Trap
By sponsoring a trap for only $25 each you will not only Save Kiwi and other native birds, but also help with the:
maintenance of traps
supply of baits
training and equipment for volunteer trappers
monitoring and caring for the released kiwi
For more information and to Sponsor a Trap, click here...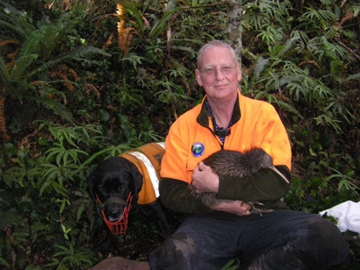 Kiwi dog "Maddie" found male kiwi, "Rush" after he went missing for several weeks due to transmitter failure. Trust kiwi handler Kevin Alekna, shown above holding "Rush", said he was amazed at Maddie's work rate and blown away when she found the burrow. He put a new radio transmitter on "Rush". There was a bonus too, as they found Rushs' mate, "Elemar" in the same burrow! She was without a transmitter as well, so they weighed and health-checked her too for good measure!
Photo credit Jo Sim. (Click for a larger view...)