Welcome!
Rimutaka Forest Park is a magnificent area of mostly native forest in the hills east of New Zealand's capital city, Wellington.
It encompasses the Rimutaka Ranges and the Orongorongo River, just north of the spectacular earthquake terraces and seal colony at the Turakirae Head Scientific Reserve.
The Park is characterised by steep, bush-clad hills and narrow fern-filled valleys cut by abundant freshwater streams and the beautiful Orongorongo River.
Throughout the park, there are many well-formed and signposted walking tracks appealing to bushwalkers and nature lovers of every age and state of fitness.
The park is easily accessed by road from Wellington or Lower Hutt. Simply take the hill road to Wainuiomata and follow all the signs to the Coast Road/ Rimutaka Forest Park and then turn left at the Catchpool Stream access road into the Park. (See Map)
The Rimutaka Forest Park Charitable Trust is committed to preserve and restore the natural and historic resources of the Rimutaka Forest Park valleys and environs... (More)
It has been active in bringing about many improvements to the Park and the Catchpool Stream picnic area and camping grounds. (Download our flyer here...)
Our "Restore the Dawn Chorus" project is now in its 13th year and our "Kiwi Project" has produced a large number of beautiful baby kiwi chicks!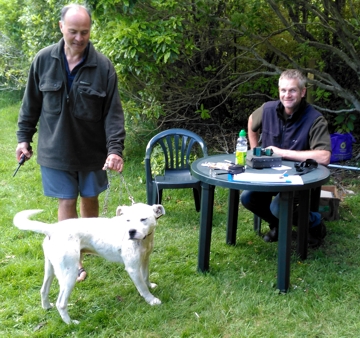 Jim Pottinger (right) talks to a dog owner ahead of his dog's Kiwi Avoidance Training session during the most recent KAT for dogs weekend conducted in November.
---
Download the latest issue of our newsletter "The Rag", by clicking here...
(Adobe Acrobat Reader required (PDF) approx 880Kb )
---
Annual General Meeting
Rimutaka Forest Park Charitable Trust Inc

.



Tuesday 20th October 2015 - 7.30pm

Last night's AGM was followed by an excellent and well-received talk by Hugh Robertson, an eminent wildlife scientist & ecologist with long experience in kiwi research. His subject matter was of course NZ kiwi and their prospects for species survival. 'Can the Decline of Kiwi be Reversed?'

'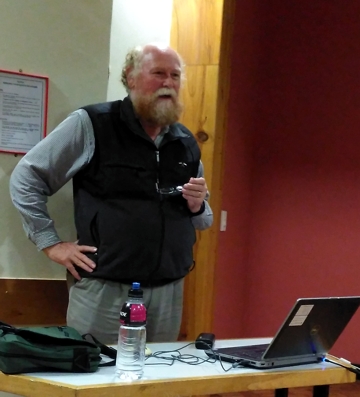 Dr Hugh Robertson speaking to members and guests of the Rimutaka Forest Park Trust at their AGM last night.
Photo credit: PC
---
40 More Dogs Trained to Avoid Kiwi
Jim Pottinger, a canine kiwi aversion trainer registered with DOC, put 40 dogs through the Trust's Kiwi Aversion Training Programme last weekend, bringing the total number of dogs trained at the Catchpool to more than 300 to date.
21 hunting dogs and 19 pets were put through the system - though these dogs were mainly dogs that attended for reinforcement of their previous training.
Training habituation lasts 12 or 24 months depending on the dog and follow-up reinforcement training is needed 12 months after the initial session for full certification.
The Hutt City Council kindly loaned us a microchip reader for use on the day which was very useful.
This training was generously sponsored by BP matching employee volunteer hours through the Charities Aid Foundation in UK.
---
Kiwi Spy
What's hidden down there in that deep, dark burrow? Here's a really good way to reveal all!
Read all about Alan Thompson's Kiwi Spy device here:

---
Sponsor a Trap
By sponsoring a trap for only $25 each you will not only Save Kiwi and other native birds, but also help with the:
maintenance of traps
supply of baits
training and equipment for volunteer trappers
monitoring and caring for the released kiwi
For more information and to Sponsor a Trap, click here...
Why not join us?
New members are always welcome! We have many different and interesting roles to fill for keen volunteers. Learning opportunities abound and you'll enjoy the company of many great characters among our existing members! Perhaps you have some specialist skills that you'd like to contribute to assist us in attaining our long-term goals and objectives? If so, please complete the Membership Application Form here... and send it in to the Membership Secretary by mail or email. (For address details, click here...)
DoC Hotline: 0800 362 468
(0800 DOCHOTline)