Welcome!
Rimutaka Forest Park is a magnificent area of mostly native forest in the hills east of New Zealand's capital city, Wellington.
It encompasses the Rimutaka Ranges and the Orongorongo River, just north of the spectacular earthquake terraces and seal colony at the Turakirae Head Scientific Reserve.
The Park is characterised by steep, bush-clad hills and narrow fern-filled valleys cut by abundant freshwater streams and the beautiful Orongorongo River.
Throughout the park, there are many well-formed and signposted walking tracks appealing to bushwalkers and nature lovers of every age and state of fitness.
The park is easily accessed by road from Wellington or Lower Hutt. Simply take the hill road to Wainuiomata and follow all the signs to the Coast Road/ Rimutaka Forest Park and then turn left at the Catchpool Stream access road into the Park. (See Map)
The Rimutaka Forest Park Charitable Trust is committed to preserve and restore the natural and historic resources of the Rimutaka Forest Park valleys and environs... (More)
It has been active in bringing about many improvements to the Park and the Catchpool Stream picnic area and camping grounds. (Download our flyer here...)
Our "Restore the Dawn Chorus" project is now in its 17th year and our "Kiwi Project" has produced a large number of beautiful baby kiwi chicks!
---
View our latest Newsletter here:
Rimu-talker June 2017 (PDF ~750Kb)
---
Kiwi Release
Saturday 29th April, 2017 - 11:50am Update
All three of the birds have now been captured up at the Wairakei Creche. Apparently they all tried to evade capture in a blackberry patch!
Fortunately our kiwi handlers were up to the challenge.
Estimated time of arrival - at the Wainuiomata Marae - for the first two birds at least, is just after 5:00pm this evening.
We will post futher updates here, and on our FaceBook page, so please stay tuned! PC.
Update @ 3:15pm: Drivers making good progress and still on time for 5pm arrival at Wainuiomata Marae. PC.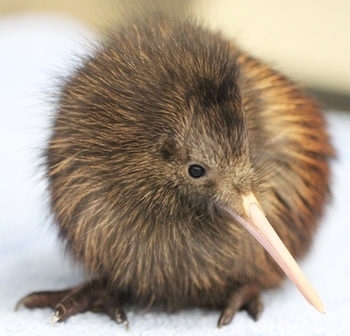 Mr Baggins' Chick #1 is also about to be released into the Rimutaka Forest Park. Photo Credit: Tara Swan.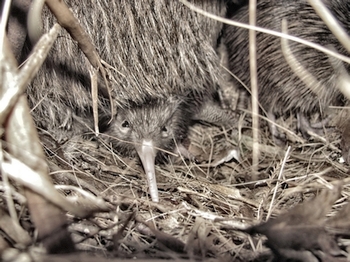 Busy burrow. Mr Baggins' with both chicks. Photo Credit: Jo Sim.
---
Kiwi Aversion Training 2017
OSPRI (TBFree) have advised that their Southern Rimutaka possum control programme will start in May 2017, the dates being dependent on the weather.
There will be signs in the Rimutaka Forest Park advising against taking dogs into the park for some months after the operation and hunting permits will not be issued during this time.
The Kiwi Aversion Training Team have decided to cancel the May training sessions and wait until the park is again accessible to dogs.
We may hold the next training earlier than our traditional time of November, but we will give a month's notice if the November training time changes. We have also looked at alternative venues but these have not be acceptable in terms of Jim's requirements and a more natural setting for the dogs.
If you need your dog aversion trained prior to entering a National Park or kiwi area, then please contact:

Central North Island:
Jim Pottinger on 021 2598299 or (07) 892 2707/ (07) 892 2691.
Manawatu:
Willie Marsh on 027 385819 or (06) 3765155.
Or for other areas, look at the Kiwi Dog Trainers' Directory.
Cheers! Rosemary Thompson & Melody McLaughlin - RFP Trust Kiwi Aversion Training Team.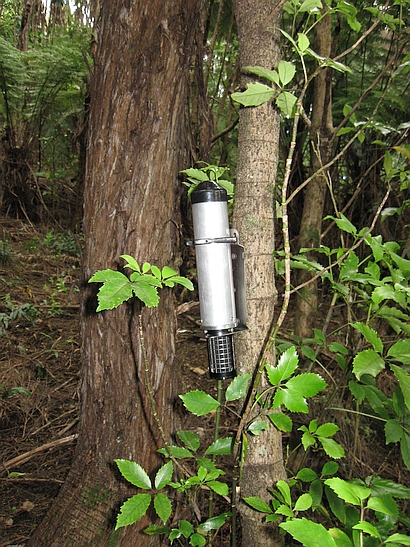 Acoustic survey of the diurnal bird population in the Rimutaka Forest Park
In December of 2015 the Trust deployed acoustic recorders at 75 sites in the Rimutaka Forest Park, in order to estimate the relative abundance of diurnal bird species. This was the first time such a comprehensive survey of day birds had been carried out in our region. We followed the counting protocol used by researchers at Victoria University of Wellington. (More...)
Read the full report here: Report: Acoustic Monitoring - RFPT
(Adobe Acrobat Reader format: PDF, approx. 4Mb)
---
Kiwi Spy
What's hidden down there in that deep, dark burrow? Here's a really good way to reveal all!
Read all about Alan Thompson's Kiwi Spy device here:

---
| | |
| --- | --- |
| | Want to hear what a male Brown Kiwi sounds like? Here are two of them calling to each other on the first night of their release into the Rimutaka Forest Park. (848kb wav Recording, courtesy S. Ellis) Click the kiwi to play... |
Why not join us?
New members are always welcome! We have many different and interesting roles to fill for keen volunteers. Learning opportunities abound and you'll enjoy the company of many great characters among our existing members! Perhaps you have some specialist skills that you'd like to contribute to assist us in attaining our long-term goals and objectives? If so, please complete the Membership Application Form here... and send it in to the Membership Secretary by mail or email. (For address details, click here...)
DoC Hotline: 0800 362 468
(0800 DOCHOTline)